The fourth round of the BMX Freestyle National Series saw Joe Foley, Sasha Pardoe and Ben Towle top the elite podiums in Dumbarton at Unit 23 Skatepark.
The day kicked off with the youth categories, with new face Lukas Kennedy winning the Youth 8-11 category, while Alfie Crocker took the Youth 12-14 victory for the fourth time in a row.
It was a close battle in the Amateur Street category, with Logan Foster beating Oliver Grundy by two points, taking the win on 90.67 points, while Cieron Hille took third with 72.33 points. Miller Temple and Reef Way were neck-and-neck in Amateur Park but Miller was able to secure his first win of the series, beating previous round winners Reef Way in second with 93.00 and Devon Low in third with 88.67.
Elite Park
The Women's Park category was won by Sasha Pardoe, who has been on the podium at every stop of the series so far but never victorious until now. Sammy Turner took second, and third was new attendee Erin Finnigan.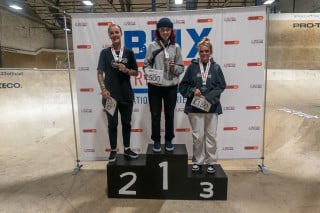 The final event of the day was the Men's Park, and this was one of the closest finals to date with first and second place being separated by just one point.
Ben Towle took the win by laying everything on the line, taking to the course and mixing his unique lines with his effortless stye and technical capabilities. His winning run was flawless from start to finish, with tuck no-hander transfers, a lofty 540 over the volcano and lacing every gap together into one single run.
Second place was previous round winner Kieran Reilly who clearly knew this was going to be a close one. Starting his run with a flair drop in, he proceeded to use his extremely powerful riding style to push out all of his hits, including a frontflip over the hip, 360 triple tailwhip and massive wallride gap to no-hander. Third place was Ash Finaly, who was the only rider to throw down a double backflip in his run.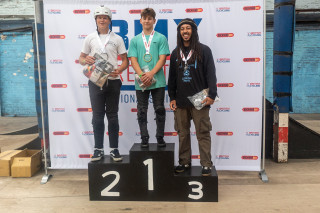 Elite Street
The Elite Men's Street competition saw a new face on top. Joe Foley took everyone by surprise with a gap to switch foot rail ride. This landed him 106.67 points to finish first, ahead of Antonio Carrizo-Smallwood in second with 90.67 and Alex Kennedy in third with 90.00.