Fresh from a second place overall at the Tour of Britain, 23-year-old Ethan Hayter finished eighth overall in the elite men's individual time trial at the 2021 UCI Road Cycling World Championships in Flanders, Belgium.
The rider competing for Great Britain gave it his all as he powered his way to the line in Bruges on Sunday afternoon setting a time of 49 minutes 14.04 seconds – 1 minute 26.21 seconds behind his Team INEOS teammate and eventual winner Filippo Ganna (Italy).
On the finish line, an upbeat Hayter told the BBC:
"I honestly don't even know where I am at the moment, I don't even know what time I did or where anyone else was, they just made me run around and sit in the seat for ten seconds and get off.
"I think I've done a decent time, there was room for improvement, I'm still kind of recovering from the Tour of Britain, but I'm pretty happy with that.
"That's one of the longest time-trials that I've done, but you have to just tuck in and go into your own world. My radio wasn't working very well – so yeah, it was just me and myself, and I took the corners pretty well, just did my thing and went as fast as I could."
Dan Bigham competing alongside Hayter was the first Brit on the course and would eventually finish in 16th overall, 2 minutes 10.62 seconds behind the winner.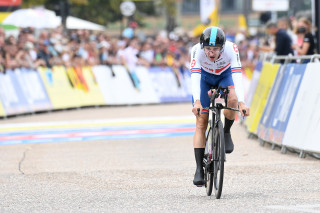 "It was making sure you had enough gas in the final third, because there were some sections out of corners that were really leg-sapping," said Bigham.
"The cobbled corner out of Damme where you had 400 metres on cobbles, you've really got to lay the power down and keep it on for the next five- or six-minutes dead straight, so if you don't have much left there it's not much fun."
Elite Men's Time Trial
Dry conditions welcomed the British duo of Ethan Hayter (Team INEOS) and Dan Bigham (Ribble Weldtite Pro Cycling) to the sandy coastal town of Knokke-Heist, Belgium for the elite men's individual time trial.
There was no time to unpack the beach towel and take in the sea view for Bigham however, he was the ninth rider down the ramp just before 3.00pm local time. The course ahead, a total of 43.30 kilometres and a flat profile with 78 metres of elevation would take him all the way to Bruges.
The 29-year-old made a strong start, reaching the first intermediate split in the fastest time, something he would replicate at the second split and the finish line being the first rider to go under 50 minutes in a time of 49 minutes and 58.45 second.
Unfortunately for Bigham, he had a very fast Maximilian Walscheid (Germany) behind him on the road. Walscheid would eclipse the British rider's time at the finish just minutes later by a slender 17 seconds; meaning Bigham didn't quite have enough time to catch his breath and take to the hot seat before the opportunity was gone.
Around the same time Ethan Hayter was heading down the start ramp, television pictures were showing Remco Evenepoel (Belgium) cross the finish line to a rapturous applause from the home crowd in a time of 48 minutes and 31.17 seconds, 42 seconds quicker than anyone else so far.
23-year-old Hayter now knew how fast he had to go to beat that time, and he did a good job to match the Belgian's time at the first intermediate split as he was just three and a half seconds slower with 29.5 kilometres to go.
It looked as if Hayter had misjudged his effort at the second time split however as he went across in the fourth fastest time, but a strong final ten kilometres had him expected second at the finish line behind Evenepoel.
Finishing in a time of 49 minutes 14.04 seconds, Hayter would lose out on the provisional second place by seven tenths of a second to Stefan Bissegger (Switzerland) on the line.
"It's not really a surprise to me. To be honest this time trial was probably too flat for me, I prefer one where we can go over and under with pacing, and be really punchy over the climbs and stuff," said Hayter.
Next up for the London-born rider is the elite men's road race next Sunday 26 September, on which he said, "I'll actually do some decent training, I've got a whole week now until the road race. The rest of the guys come in on Tuesday and Wednesday, so I'll actually do a decent day tomorrow and Tuesday and see how to approach the weekend and how I feel."
Tony Martin (Germany), Stefan Küng (Switzerland), and Kasper Asgreen (Denmark) would all finish quicker than Hayter rider, but behind Remco Evenepoel (Belgium).
Wout Van Aert (Belgium) and Filippo Ganna (Italy) went on to fight it out for first and second, with the Italian taking home the rainbow jersey and gold medal by just five seconds.
Results
Filippo Ganna (Italy) 47:47.83
Wout Van Aert (Belgium) +5.37
Remco Evenpoel (Belgium) +43.34
----
8. Ethan Hayter (Great Britain) +1:26.21
16. Dan Bigham (Great Britain) +2:10.62