For anyone that started cycling during lockdown but got stuck on ideas to continue their new-found habit – we invited cyclists from up and down the country this summer to play their part in creating a greener, fitter, healthier Britain.
From July to August more than 21,000 people came out and rode with us at an incredible 1,700 cycling sessions (including our 20 locally-organised community events), with another 143,658 people taking part in our Strava Challenge.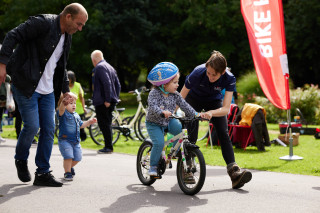 We brought HSBC UK Go Ride racing for children, family riding around traffic-free circuits, music and entertainment to bring a real festival-feel, but now the HSBC UK Let's Ride Summer of Cycling has happened, the fun doesn't have to stop there.
We organise friendly group rides across the country all year round, have more than 1,000 free cycle routes to help you go out and explore, and have plenty of cycling tips and advice to get you going – all on our dedicated microsite Let's Ride Local.