British Cycling, Sport England and the Department for Digital, Culture Media and Sport (DCMS) can today announce that £100,000 has been donated to Brompton Bike Hire's Wheels for Heroes crowdfunder campaign, which is aiming to provide 1,000 new loan bicycles for NHS staff to safely travel on for free during the COVID-19 pandemic.
The donation has been made from the £15 million Places to Ride investment fund, which was created by Government to deliver a tangible legacy from the 2019 UCI Road World Championships in Yorkshire. The fund is managed through a partnership of British Cycling, Sport England and DCMS, with the ambition of enabling more people to ride and connecting communities through cycling.
The donation now means that the Wheels for Heroes crowdfunder has raised almost £300,000 since launching on April 2, and to help reach its target of £400,000 the closing date for donations has been extended until April 24th.
Brompton Bike Hire's Wheels for Heroes initiative was set up earlier this month in response to overwhelming demand from NHS staff to an initial offer of free bike hire for health workers at St Barts hospital in London. Brompton will commit production costs equating to an investment of up to £100,000 to fund bikes and with public and corporate support, the bikes will be produced at below cost price and loaned straight to healthcare workers via the Brompton Bike Hire network for as long as lockdown restrictions are in place.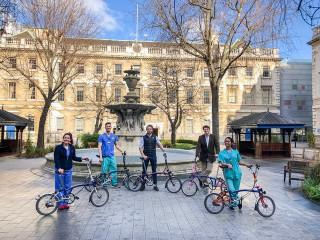 In the longer term, the bikes produced through this donation will continue to be made available for NHS staff and key workers, and to support initiatives such as patient rehabilitation programmes.
British Cycling Chief Executive, Julie Harrington, said:
"We always knew that the legacy of last year's UCI Road World Championships in Yorkshire would be felt far and wide, but at a time of real national crisis I am incredibly proud that the Places to Ride legacy fund will be supporting the frontline workers who are going above and beyond to keep us safe.
"At British Cycling we have always believed that the humble bicycle has a unique capacity to tackle some of the world's most pressing challenges, and whether you're making essential journeys or simply looking after your physical and mental health, its value has never been so clear."
Julian Scriven, Director of Brompton Bike Hire, said:
"It's fantastic that more NHS workers will now have the option to borrow one of our Wheels For Heroes bikes. At Brompton Bike Hire, it's important that we not only help those working on the front lines at the moment but have a lasting impact on the way we move around cities in the future. The generous donation from Places to Ride fund will go a long way to make sure this happens"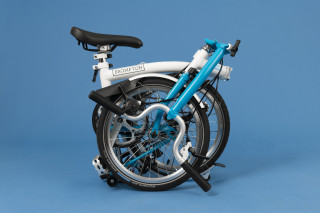 Sports Minister Nigel Huddleston said:
"Sport and physical activity has a hugely positive impact on our wellbeing and I am thankful for everything the sector is doing in assisting the national response to the coronavirus pandemic.
"This partnership with Brompton and British Cycling, backed by Government funding, will help some of our amazing NHS heroes keep fit and healthy as they travel to work to do such an incredible job on the frontline."
Charles Johnston, Sport England's Property Director, added:
"Helping everyone remain active during the pandemic is one of our key priorities now because the physical and mental health benefits of moving have never been more important.
"We're delighted to donate to the crowdfunder campaign from the joint Places to Ride legacy fund, and offer those fighting on the frontline access to free bikes so they can travel to work and cycle on their essential exercise sessions."
You can find out more about the Places to Ride fund here. The fund will remain open to applications until January 2021.
The legacy campaign for the 2019 UCI Road World Championships is #OwntheRide, and you can find out more about that here.