British Cycling President, Bob Howden OBE:
"On Good Friday I lost a close friend, Mike Hodgson, to the Covid-19 virus, and the world of cycling lost a tremendous servant.
We had built up a friendship through his event - the Tour of the Reservoir, where in the early days I would be his Chief Judge. More latterly, when I became British Cycling President, it would be to present prizes and to offer him moral support, which would always be welcomed with a bunch of flowers for my wife Ceri along with a box of eggs from his hens. In return he would travel down from Durham each year to Ampleforth in North Yorkshire to marshal our Ryedale Grand Prix, more often than not gaining a soaking for his troubles.
Mike had some strong opinions and was usually never less than forthright in expressing them, but they were always offered because he cared passionately for our sport. His passion even extended to him checking out of hospital two years ago after a major heart operation, to be able to take the reins at his event. It never occurred to him that he should miss it, although his wife Flora and daughter Andrea may have thought otherwise at the time.
Mike had an indomitable spirit and whilst the Tour of the Reservoir was one of the toughest races on the calendar, he was always looking to do more with the formula in a search of being bigger and better. He was one of the first National Series organisers to add a women's race to his promotion, the next step was to then make the event a two-day stage race. More recently he teamed up with regeneration company Genesis to take the race finale into the town of Consett as part of the Consett Festival.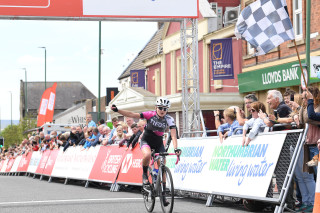 As a fellow organiser I had tremendous admiration for Mike's commitment, which was in spite of his underlying health issues and, I would often reflect as to whether I could ever achieve that level of fortitude should I be in the same position - invariably the answer would be a resounding 'no'.
Mike was at various times the Chair of the North East Region of British Cycling, and throughout these periods he would travel down to Wakefield and we would then share the drive to the Federation Commission meetings in Birmingham with a couple of hours each way of putting the world to rights, interspersed with a flow of anecdotes. In between all of this many of my working days would include a phone call from Mike and we'd also developed a get together luncheon along with Tony Barry, our BC Neutral Service Manager, who would travel over from the Wirral to team up at Betty's in Harrogate.
I won't be alone in regretting that this terrible virus prevents me from saying my goodbyes at the funeral of a true friend. I do however hope that his memory will live on, through 'Mike Hodgson stories' of which I'm sure there'll be many."