The Great Britain Cycling Team will use the brand new Verve Track InfoCrank at the forthcoming 2018 UCI Track Cycling World Championships in the Netherlands, British Cycling has confirmed.
Verve, the official power crank supplier to the Great Britain Cycling Team, has developed the product following five years of study, research and modelling, which has been supported throughout by British Cycling.
The Track InfoCrank is the first torque transducer purpose-built for track cycling, and has been produced as a result of several major advances:
Torque is measured within two seconds of activation, effectively meaning that all forces are measured even before a cadence event.
Continuous output of sensor torque data allows detailed examination of the rider's technique, including transient events such as standing starts, acceleration and deceleration
The pedalling waveform can be visualised and combined with all the other data, used for specific strength and training programmes.
The data obtained from the Track InfoCrank can be directly compared between riders using InfoCrank on the road.
Both legs are measured independently, which has never been done at the accuracy level of the InfoCrank
The Track InfoCrank utilises the latest firmware, hardware produced by Verve Cycling, which features improved power management, ability to switch on/off functionality as required, and improved wireless transmission.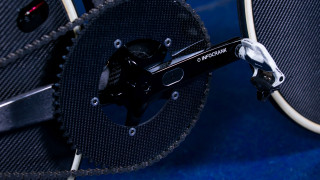 Iain Dyer, Great Britain Cycling Team head coach said:
"InfoCrank power data is trusted to be accurate under all riding conditions, and is a vital element in setting training programmes for our athletes. It's no longer acceptable to just have consistent data - all our power meters have to be accurate all of the time.
"This allows us to compare performance improvements over time and between riders. InfoCrank has eliminated data drift and the need for re-calibration, enabling detailed analysis of our true performance on the road and in the velodrome.
"We have worked closely with the engineers who developed the InfoCrank and they have proven to be committed to achieving best in class in this increasingly crucial area."
Dr Oliver Caddy, who co-ordinated the efforts of the Great Britain Cycling Team on the project, added:
"The promise of far greater reliability and precision in our data was before us and has now been achieved. This is more than an incremental step forward for the team and athletes at every level will benefit."
Bryan Taylor, president of Verve Cycling, said:
"I am very pleased to finally reveal the Track InfoCrank. Our engineers and staff globally, combined with the British Cycling engineers and technical staff and mechanical staff at the UCI World Cycling Centre, worked through two generations of designs and numerous iterations to produce this product.
"We all knew that something more was needed in the world of track racing to take the sport to a new winning edge, and this is the result. Everyone had a wish list, but it was harder to achieve than we all thought."