Tom Pidcock and Katie Archibald were the big winners at the 2018 British Cycling Awards dinner in Birmingham on Saturday evening.
Pidcock who enjoyed an unforgettable 2017 which saw him become a junior world champion in cyclo-cross and time trial, was awarded British Cycling's Rider of the Year, voted for by British Cycling members and social media followers.
Katie Archibald, who was runner up to Pidcock in the Rider of the Year vote, was awarded the prestigious British Olympic Association trophy, for a year which saw her win her first individual world title, two European crowns, and a plethora of national titles.
The evening was hosted by Sky Sports News presenter and cycling broadcaster Orla Chennaoui, and she was joined by a number of special guests throughout the evening including three-time Grand Tour runner up Philippa York, Great Britain Cycling Team performance director Stephen Park, para-cyclist Will Bjergfelt and junior BMX world champion, Beth Shriever.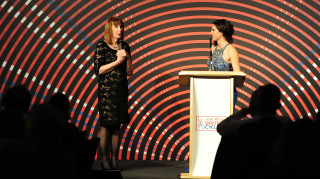 Great Britain Cycling Team performance director, Stephen Park, said: "The breadth and diversity of our sport is so impressive and seeing such great performances by so many young, developing athletes and so many national champions some of whom have done it time and time again was fantastic.
"There are also some great awards given to some fantastic people who are doing a huge amount and giving a huge amount of their time to our sport."
Two of these awards, handed out on the evening, were the prestigious Brian Cossavella Trophy and Dave Saunders Trophy.
The Brian Cossavella Trophy, presented to an individual who has made a fantastic contribution to organising cycling events in this country was awarded to Graham Bristow, a long-time organiser of the Good Friday Track Meeting and National Masters Track Championship.
The winner of the Dave Saunders Trophy and recipient of a British Cycling Federation medal was Phil Townsend, a key figure in the British BMX community, performing a number of key roles in events organisation, commissairing and administration.
British Cycling chief executive, Julie Harrington, said: "We know that celebrating success, not just of our elite riders, but talented riders all the way through from juniors to masters is really important to our membership.
"Events like this are not just important to British Cycling as an organisation, but important to cycling in Britain."
Junior BMX World Champion, Beth Shriever added: "It means a lot that British Cycling holds this event and gives us all this recognition. It's just great to see the amount of people that are achieving great things in our sport."