It's been a year since Sir Chris Hoy called on sporting stars of the future to sign up to the #DiscoverYourPower talent identification campaign and British Cycling is pleased to report that five young female sprint athletes have been accepted onto a final six month confirmation programme.
#DiscoverYourPower, a partnership between UK Sport, the English Institute of Sport (EIS) and British Cycling, aimed to target powerful 15-21 year old females to be fast-tracked onto the sprint programme having acknowledged a gap in this area. It formed part of a wider initiative, #DiscoverYourGold, which aimed to identify talented young male and female athletes who had the potential to become champions in over 20 sports.
Since March last year, UK Sport tested approximately 1,200 young athletes at twelve national events across all the sporting disciplines.
From there, British Cycling identified 30 female athletes between the ages of 15 – 20 years old who had displayed some of the physical attributes required to be successful in track cycling.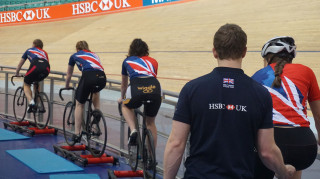 After two phases of testing, twelve athletes made it through to phase three - a three day training camp in Manchester led by Academy sprint coach Kevin Stewart and Paralympic medallist Pete Mitchell. During this camp, the athletes undertook a number of assessments, both on and off the bike, aimed at further exploring just how much potential they had to make the switch. This narrowed the group down to five female athletes.
Milly Tanner, Jody Edwards and Lauren Bell all from Somerset, along with Silvia Misztal from Herefordshire and Tait Jones from Surrey are now embarking on a six month confirmation programme led by GB Cycling Team athlete, and level three track coach, Pete Mitchell.
Silvia Miztal, said:
"Taking part in Discover Your Power is probably the best thing I've ever done. I took part on the off chance I might get to ride on a velodrome and now it's all I want to do. Getting through each phase was a surprise and now to be trying to get into the Great Britain Cycling Team feels unreal.
"The support throughout the programme has been great. Pete is always available to answer any questions and explains everything in detail so we know what the aim is and how it will benefit us."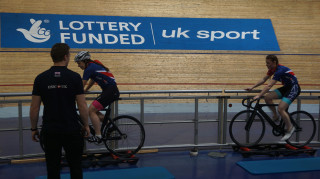 Milly Tanner, added:
"I'm so glad I filled in the Discover Your Power form. I've always dreamt of being on the Great Britain Cycling Team and representing my country and I'm looking forward to the challenge of hopefully making it a reality."
Speaking after their first Manchester-based training camp, Pete Mitchell said:
"The camp went really well. We said from the outset that British Cycling's goal is to make the group fall in love with cycling and that's the approach I've taken with their training programme.
"We've got a great group of athletes here and it's my job to convert them into cyclists. The main focus of the first training camp was refining their pedalling technique and teaching them the basics of cycling. We were lucky enough to be able to tap into some of the Great Britain Cycling Team's resources such as Paul Barratt (senior biomechanist) who carried out a pedalling assessment for us which was really insightful.
"We had a quiz to help the girls get their heads around cycling terminology and technical knowledge, then we had a track session on Sunday morning where we began developing their track skills. They then went on a road ride in the afternoon. It was a very good and productive weekend."
The six riders will continue their training programme in Newport and will travel to monthly weekend camps in Manchester throughout the six month period.
Mitchell explains: "Over the coming weeks, the programme will become more skill-specific and we'll focus on things like sitting on a wheel which is an unusual concept for non-cyclists, as well as skills like rushing a gap and passing. We'll also start to introduce practicing different types of 'efforts'.
"We're looking at a whole host of things from the girls - basically, the whole package of what's required to be a successful bike rider."