Evie Richards, Carl Lawrenson and Graham Sutton were the big winners at British Cycling's 2017 Annual Awards dinner on Saturday.
Richards, the 2016 under-23 cyclo-cross world champion, was honoured with the British Cycling Ride of the Year award.
The Malvern rider topped the public vote for her historic victory in Zolder, Belgium in January last year, as she became the first ever women's under-23 cyclo-cross world champion.
Mr Sutton, well known throughout the cycle speedway community, received the Brian Cossavella Trophy for services to event promotion.
He has organised cycle speedway events in Poole for many years and hosted the 2016 ICSF European Championships last year.
Gallery - British Cycling's 2017 Annual Awards
The final award of the evening, the Dave Saunders Trophy for services to cycling, was awarded to Carl Lawrenson.
Mr Lawrenson has been involved in cycling for more than 20 years as an organiser, a commissaire, an announcer and race official, and is a well known figure throughout the world of cycling.
Gallery - British Cycling's 2017 Gala Dinner
The event was opened by British Cycling president Bob Howden and celebrated an incredible year of international and domestic cycling success, as well as the new partnership between British Cycling and HSBC UK.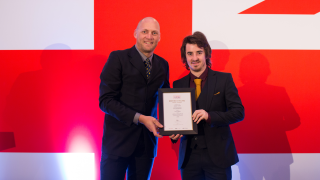 Anthony McCrossan hosted the awards and was joined on stage through the evening by a number of figures in British cycle sport including Olympic gold medallist and British Cycling policy adviser Chris Boardman, BMX world junior time trial silver medallist Beth Shriever and mountain bike downhill world champion Danny Hart.