KALAS is the official clothing supplier of the Great Britain Cycling Team.
KALAS is a leading manufacturer and distributor of custom cycling apparel in Europe. Born in 1991 out of a passion for cycling, the company has a rich cycling heritage going back over 25 years and prides itself on premium quality, product innovation and outstanding customer service.
World Champions, Olympic winners, top pro teams and thousands of recreational cyclists in many countries worldwide already proudly wear KALAS and the clothing experts are proud to now add the Great Britain Cycling Team to this list.
KALAS will supply all on and off-bike clothing for riders and staff for the next four years.
Iain Dyer, Great Britain Cycling Team head coach, said: "We are delighted to be working with KALAS. From the very start they have demonstrated a detailed understanding of the performance demands of such a technical partnership. Having a kit supplier with their in-depth knowledge and high level of service is invaluable to the Great Britain Cycling Team."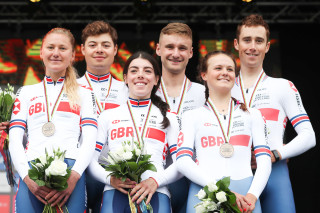 KALAS director and co-owner Jakub Věncek added: "Working with British Cycling and the Great Britain Cycling Team has opened up some exciting opportunities for KALAS to demonstrate our capabilities. For over 25 years we've been developing premium cycling kit. We have made these new elements and technologies, introduced in to the 2017 kit design, available for fans of the team to experience during their rides and races."
With 300 different items of custom clothing available KALAS have the perfect piece of kit for every occasion, weather and cycling discipline. From super-fast skinsuits to windproof and waterproof membrane jerseys, or incredibly light and breathable summer jerseys, they will ensure you have the right kit for the job, giving you maximum comfort and performance at all times. Their turnaround is shorter than the industry average and with very low minimum order quantities no job is too small.
For advice on how to get started with your own custom design contact KALAS' friendly customer service team on +44 (0) 1458 558 291 or email info@kalas.co.uk. Alternatively, visit our website for a look at our extensive custom product range: www.kalas.co.uk