Work has begun to construct a new pavilion at the historic Herne Hill velodrome in London, a development which will safeguard the future of cycling at the venue.
Made possible due to an agreement between British Cycling and the Herne Hill Velodrome Trust, the new pavilion – which will include function rooms, a viewing gallery, a new grandstand and bike storage facilities – will help to mark the venue's 125th anniversary.
Grants from Sport England, the London Marathon Trust, Southwark Council and the Mayor of London's Sports Facilities Fund have also helped to fund the work.
Hillary Peachey, Chair of the Herne Hill Velodrome Trust said: "What better way to celebrate Herne Hill Velodrome's 125th birthday this year by starting the final phase of our ambitious project to construct a new pavilion, which will safeguard cycling here for the next 99 years.
"We owe enormous thanks to the volunteers, the schools, the clubs, riders, land owners (The Dulwich Estate), lease holders (British Cycling) and of course our incredible funders: Sport England, The London Marathon Charitable Trust, Southwark Council, the Mayor of London and the project team for getting us this far."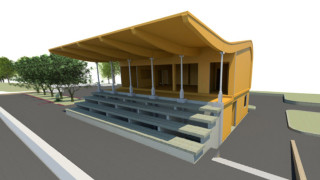 The new pavilion is the third and final stage of development work at the facility, which, since being built in 1891, has welcomed some of the world's greatest riders as well as playing host to hundreds of thousands of young and aspiring cyclists.
In 2001, the track was under threat of closure due to problems with the surface and the pavilion being deemed to be unsafe.
British Cycling, along with Velo Club Londres and The Dulwich Estate, ensured that the site was maintained, and contributed £500,000 of funding.
This contribution included a financial bequest left to British Cycling for use 'in the pursuit of track cycling' by London resident Leonard Lyes, who was a life-long supporter of the Herne Hill Velodrome.
The track will remain open for riding and racing by schools, communities and clubs throughout the improvement works.