The launch of Team Breeze - British Cycling's new team for women academy riders - has been welcomed by Sports Minister Tracey Crouch as "another exciting development for women's cycling."
Team Breeze, which will race on the road and the track over the course of the season, will make its first appearance in the Revolution Series at the National Cycling Centre in Manchester on Saturday.
The Team Breeze launch is another significant step forward for British Cycling's #WeRide strategy, which aims to inspire more than one million more women to cycle regularly by 2020. Launched in 2013, British Cycling's two year update reported that the strategy is firmly on track with the governing body influencing over 250,000 women to cycle.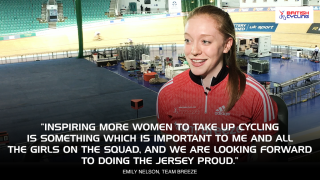 Minister for Sport, Tracey Crouch said: "British Cycling has made great progress in encouraging thousands more women to get on their bikes and the launch of Team Breeze is another exciting development for women's cycling.
"Not only will this help bring talented British women riders through but it can also help inspire the next generation of women cyclists. I wish Team Breeze the best of luck with their track debut in Manchester this weekend."
Breeze is the biggest national programme designed to inspire and support more women to ride their bikes. On average there are 200 rides a week throughout the UK, open to women of all experience levels and abilities – all free to register and join.
British Cycling president, Bob Howden, said: "The launch of Team Breeze reaffirms British Cycling's position as a governing body that is serious about getting more women involved in our sport. Our #WeRide strategy is working – we are on track to get one million more women cycling by 2020 and women are better represented across our sport than ever before.
"The Breeze programme has been central to the growth of women's cycling, and I pay tribute to everyone how has played a part in its success – particularly our inspirational Breeze Champions.
Team Breeze cyclist @DanniKhan hopes to inspire more women to take up cycling. https://t.co/wt37RpuoWH https://t.co/CkJizOt2jO

— British Cycling (@BritishCycling) January 22, 2016
"Team Breeze is not only a great opportunity for academy riders to progress through the sport and maximise their potential, it can become a focal point for women everywhere who like the idea of riding a bike."
Emily Nelson, who will ride for Team Breeze following a double-medal haul at the UCI Track Cycling World Cup in Hong Kong last weekend, said: "I'm really excited to have the opportunity to race for Team Breeze on both the road and the track this season.
"Inspiring more women to take up cycling is something which is important to me and all the girls on the squad, and we are looking forward to doing the jersey proud."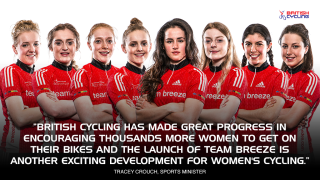 The team will compete in the UK on both the road and the track in 2016, and are supported by British Cycling's Breeze, the governing body's award-winning programme aimed at getting more women cycling for fun and fitness
Great Britain Cycling Team performance pathway manager Ian Yates said: "The creation of Team Breeze is an ideal vehicle to give young women more opportunities to race and aid their development. This mirrors the approach we have followed in other disciplines so we know the benefits it will bring.
"The fact that Team Breeze also aims to inspire young women to get on their bikes is an added bonus for us as we're always on the lookout for talented young riders to join the Great Britain Cycling Team."
If you would like to see Team Breeze in action in their first event on Saturday you can still get tickets via www.cyclingrevolution.com.
Meet Team Breeze
Megan Barker
Abbie Dentus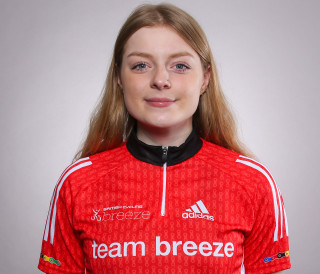 Emily Kay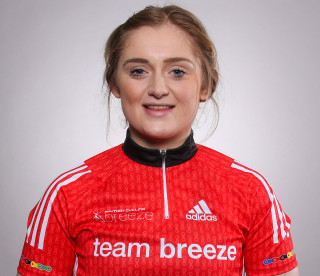 Danni Khan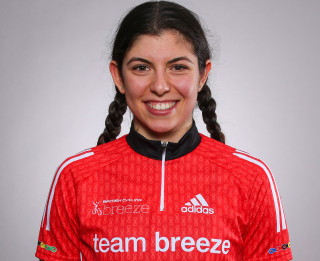 Manon Lloyd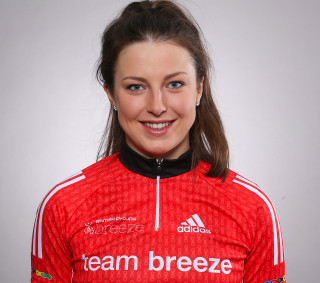 Melissa Lowther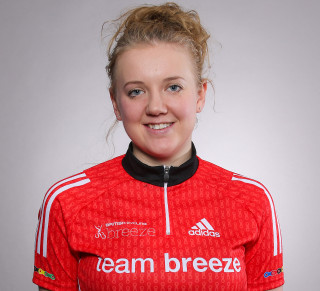 Emily Nelson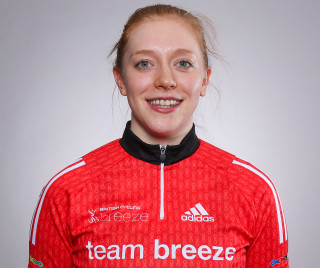 Annasley Park