Results - | |
---
British Cycling Chief Executive Ian Drake finished 36th in the Brompton World Championship at Goodwood Motor Circuit on Sunday.
British Cycling Chief Executive Ian Drake rides the 2013 Brompton World Championships from British Cycling on Vimeo.
Drake completed the 15-kilometres, four laps of the circuit, in 25 minutes and 49 seconds as Ireland's Michael Hutchinson won in 23 minutes and 44 seconds to complete a hat-trick of victories.
British Cycling's Policy and Legal Affairs Director Martin Gibbs, who had coached Drake in the build up to the event, was pleased with the ride.
Above: Ian with 'super domestique' Sam Wrankmore.
"It was a hard fought, windy race and a very, very respectable performance given the modest levels of prep....," said Gibbs, who refused to discuss whether Drake would now be targeting September's UCI Road World Championships in Florence.
Drake had acquired the services of 'super domestique' Sam Wrankmore for the race though rumours of a lead out train in the event of a sprint finish were unsubstantiated.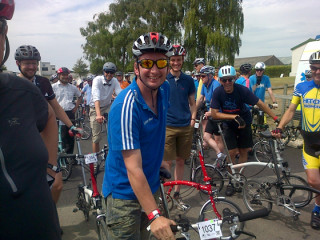 Above: Hilarity as, in the manner of the Great Britain Cycling Team keeping their wheel covers on until the last moment, someone notices Ian still has packaging on his gear cabling.
On Saturday, Drake had contested the Brompton Eliminator and Brompton Sprint as a prelude before the denouement of the weekend.
In the sprint, coach Gibbs took to marginal gains in the pursuit of seconds, a spray of GT85 being applied to the chain and it seemed to have the desired effect with Drake second in his heat on the 500 metre course.
He eventually settled for 14th, narrowly missing out on a final spot before moving on to the eliminator with Wrankmore.
In the eliminator riders were removed at seven 'drop out' points around the circuit with two laps being completed. Drake and Wrankmore worked together to help set a scorching time in the heats, Drake the sixth fastest qualifier before a podium spot was in sight in the final.
Drake was the catalyst in a break which looked to be the winning move. But eventually it was pulled in by the bunch and as the finish drew nearer, Drake was caught up behind a crash, costing valuable time and eventually finished 17th.
After the weekend's racing Drake wouldn't be drawn on whether he will return next year, a story which will no doubt run and run until the 2014 edition of the event.
Results
Brompton World Championships | Brompton Sprint | Brompton Eliminator