BMX clubs and riders across England have benefitted from a £3.6 million investment boost through the Places to Ride legacy programme, helping to pave the way for a new generation of champions and provide purpose-built tracks in the heart of communities.
Corby's Adrenaline Alley (BMX Freestyle Park) and Harrow Pump Track are among dozens of grassroots facilities and clubs in England to have secured investment through the £15 million fund, which was established to cement a legacy from the 2019 UCI Road World Championships in Yorkshire.
The fund – which is now closed to applications – was managed through a three-way partnership between British Cycling, Sport England and the Department for Digital, Culture, Media and Sport (DCMS). In total, 24% of its funding has gone towards projects supporting BMX-related activity - ranging from large-scale BMX race and Freestyle Park facilities to community pump tracks and smaller equipment grants for schools, clubs, and groups.
British Cycling Head of Business Planning and Transformation, Andy Farr, said:
"Although linked to the UCI Road World Championships, we have always been clear that the Places to Ride fund should benefit cycling as a whole – whether that be purpose-built facilities for our cycling disciplines, community spaces for recreational riding or learn-to-ride areas for those just getting started.
"We wanted to make sure that our investment had the greatest possible impact and we recognised that BMX-related provision, including BMX Freestyle and pump tracks as well as BMX race tracks, can provide a wide range of opportunities for young people in particular. Thanks to the support of local partners we've been able to agree funding for a number of new facilities in the heart of communities, alongside equipment support for clubs, providing fun and accessible spaces for riders of all ages and abilities to give BMX a try in all its forms."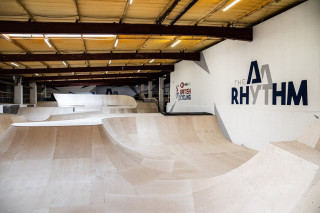 Adrenaline Alley (BMX Freestyle Park)
Places to Ride funding has been invested into the development of Adrenaline Alley's BMX Freestyle provision, to include additional ramps and resi jump boxes to engage beginners through to advanced level riders, as well as the addition of a spectator area.
Mandy Young, Founder and Development Director at Adrenaline Alley, said:
"Places to Ride funding has been pivotal for communities across the country, and to see that being expanded by British Cycling delivering projects into communities to engage and raise more awareness of BMX Freestyle is fantastic. Not only is it helping to engage people of all ages, genders, abilities and disabilities, it has potential to progress young aspiring riders to become future Olympians through a pathway from beginner to elite rider. Adrenaline Alley is the first development centre for BMX Freestyle and we will continue to support British Cycling to introduce and help other places or clubs across the country."
Harrow Pump Track
Based in Kenton Recreation Ground, Harrow Pump Track offers something for everyone from novices to skilled riders – with green loop for beginners, blue loop for intermediate and improving riders and red loop for experienced riders, including a start-gate system for those wishing to practice their BMX racing technique.
Thanks to Access Sport, and with support from Places to Ride funding, the club will have all the equipment needed to run weekly sessions on the track as well as outreach sessions with local schools, organisations and community groups.
Steph Walters, Delivery Manager from Access Sport, said:
"We are delighted to welcome this new facility to Harrow and the finished track looks amazing. We hope that this new facility will inspire the local people of Harrow to get on bikes and get active. It is a great asset for the local community and the track will be an exciting place for people to learn to ride or increase their cycling confidence."
The application window for large scale and small-scale grants has now closed, but there are still two schemes open for applications – Equipment Packages to activate local opportunities to ride and our Crowdfunder, which can support new cycling projects with up to £15,000.
Find out more about our #EveryoneWins campaign on the British Cycling website. Inspired to take part in BMX? Use our Club Finder to join a club near you, and sign up for an event now.