ScottishPower Youth Mini Downhill Round 2 Birks of Aberfeldy 4th May 2014
Back for 2015 in its 3rd year the ScottishPower Youth Mini Downhill series has 4 rounds with the top 3 riders in each category qualifying to race the final at the Fort William MTB world cup in June
Round 2 was a new venue for the series Birks of Aberfeldy just down the road from a former Scottish Downhill Series venue. It was an over cast start to the day giving damp greasy conditions on the natural and rooty course. Though never one to believe a weather forecast after a few drops of rain things did brighten up to dry the course out for the 53 riders racing.
See what the course was like with helmet cam footage from Myles Reid
After the morning practice session it was on to the race runs. Each rider had two timed runs in the afternoon session to complete the course in the quickest time they could manage. With some tight turns and roots a plenty it was all about getting your line choice sorted for each section to carry momentum through the whole trail.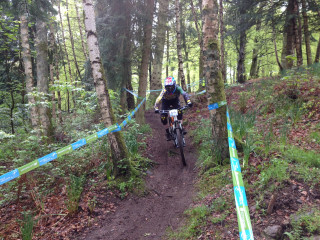 First out the gate were the under 10's In third place for the boys was Seth Barnett, and then a repeat of round 1's results with second Douglas Goodwill, Black Isle MTB Club but with a strong lead of 5 seconds Zander Millar-Todd, Highland Bikes Race Team.
Upping the pace in the Under 12's James Wilson, Wolpfax riders took the win followed close behind by Ryan Brannen, Leslie Bike Shop/Bikers Boutique. Though with identical times in both runs it was a shared third place for Fraser Kelly, Black Isle MTB, and Chris Cumming, East Coast MTN NI. Charlotte Higgins was the first place girl.
The under 14's race was close fought race with a large number of field putting in some fast times but it was Finlay Watt, Wolfpax riders who took the third place, in second was miles Reid but in first place putting in the only under 14 sub minute time was Perth local Ed Yearsley from the Tay Titans. For the girls race Tea Jenson, Leslie Bike shop/Bikers Boutique was second with Polly Henderson, Stewarty Wheelers taking the win with the fastest girl's time of the day.
In the Under 16's East Coast MTB NI rider Chloe Cumming had a crash on the first run but got back on and finished her run to get a time. The boy's podium was fast with all 3 riders sub one minute, Adam Burgoyne, Stewarty Wheelers was third and Jack Devlin East Coast MTB NI second. Brandon Gonsales, Meedies Bike club took the top step with the fastest time of the day.
Scottish Cycling would like to thank Highland Perthshire Cycling festival, the Tay Titans club and all the volunteers for all their help with running the event.
The next rounds will be on Saturday 24th May at Newmilns and on Sunday 25th May at Comrie Croft
For more info on the world cup visit www.fortwilliamworldcup.co.uk
For more info on the rest of the series visit the ScottishPower MiniDH page