ScottishPower Youth MiniDownhill Series Round 3 Newmilns Race Report 24th May 2014
For round three of the ScottishPower MiniDownhill series it was down to Newmilns near kilmarnock to rider the bike park next to the dryski slope. Spring has been in the air in Ayrshire as the grass to the side of the track was almost jungle like with the trail winding through. With 40 riders and a short course that had some tricky corners it was going to be close racing for all the age categoriesTo see what the course was like has a look at the helmet cam footage from Stephen Cumming
First on the course was the under 10's and the youngsters weren't hanging about with the three podium placed riders all putting in sub one minute times! In third place was Stephen Cumming, Rotation Crew, second making the trip up from the lake district Seth Barnett and 1st place Cameron Oldham. For the girls race it was a Peebles CC one two with Emily Carrick-Anderson in 1st and Ruby Smith in second.
In the under 12's race the pace stepped up with Gus Meldrun taking 3rd, Chris Cumming, East Coast MTB NI in second and Wolfpax rider James Wilson in 1st. IN the girls race Charlotte Higgins was second with Iona Aldridge in first.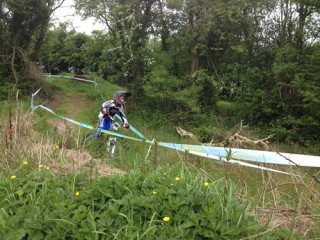 For the under 14's race it was a Wolfpax riders podium Finlay Watt took 3rd place missing out on 2nd place by 0.44 of a second to Fraser Watt. But storming down the hill to take a 5 and a half second lead was Charlie Aldridge. Tea Jenson, Leslie Bike shope/Bikers boutique, put in a time to make her the fastes rival some of the boys in the under 14 girls category.
Then it was onto the Under 16's, Zoe Nix, Walkers Cycling won the girls race. For the boys it was a close call between 2nd and 3rd place with a split of just 0.22 of a second. The Tay Titans Kyle McGeoghie was third and Meedies bike club Scott Salmond was second. Taking the top step and fastest time of the day with a heathly lead was Brandon Gonsales, Meedies Bike club.
Scottish Cycling would like to thank Newmilns dry skislope for their help and support with the venue and also all the volunteers that helped with running the race. The 4th and final regional round will be at Comrie croft tomorrow(Sunday 25th May)