Free three-month commute membership for NHS staff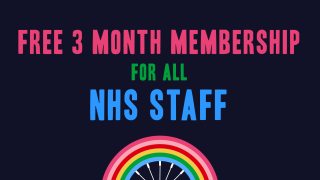 To recognise the fantastic work of the NHS during these times and say thank you, British Cycling with our principal partner HSBC UK are pleased to offer a three-month British Cycling Commute Membership free of charge to all NHS staff.
With the peace of mind liability insurance and legal support, the membership will support NHS staff to cycle to and from work. Alongside the insurance and legal benefits there are a whole host of member benefits including discounts on servicing, components, kit and much more.
Our weekly newsletter gives hints and tips for cycling both on and off the road.
Full information on the benefits of British Cycling Membership.
CommuteSmart with our great videos packed with essential commuting tips.
To sign up, please complete the online membership form, select Commute membership, please use your NHS email address and use the promo code NHSFREE on the final payment page, when prompted, in the promotional code box.
Please note the code can only be used for a free three month Commute membership. Please see full terms and conditions at the bottom of the page.
Promo code: NHSFREE
Existing British Cycling members who are NHS will get an equivalent discount off their next membership renewal.
Terms and Conditions
Free three-month British Cycling Commute membership for new and re-joining members.
You must be a current NHS worker, aged 18 and over to claim this offer.
Liability insurance and legal support and advice benefits are valid only for commuting and utility purposes – for full terms please see our legal and insurance page.
Please sign-up for your free three-month membership using your NHS or doctors email address. Where this is not possible, please email membership@britishcycling.org.uk and send a copy of your photo ID card for proof of validation. This will be deleted once confirmed.
Please be aware that your application for membership may be rejected if no valid NHS verification is supplied.
If you are an existing British Cycling member and work within the NHS, please get in touch with our membership team, where we can apply an equivalent discount to your next membership renewal.
If you are a lapsed member please contact the membership team to take up your three-month free membership.
The offer valid from 16 April to 31 July 2020, this may be extended in-line circumstances around Covid-19.
The offer is only valid for Commute membership and cannot be used against other membership. Please note that your free membership may initially display a 12-month period, but this will update to a three-month period.
Full terms and conditions of British Cycling membership can be found here.