Follow britishcycling.org.uk on
Report: 50th Anniversary Gala Dinner & Annual Awards
Event: 20th February 2010, Manchester | Posted: 21st February 2010
Report & Video: Eddie Allen | Images: Larry Hickmott and Luke Webber
UPDATED: Read Richard Moore's Blog Entry on the event at skysports.com

Video - Gala Dinner
Cycling champions, tireless volunteers, backroom heroes and sporting stalwarts past, present and future flocked to Manchester for British Cycling's golden anniversary - the 50th Anniversary Gala Dinner, for the first time incorporating the traditional Annual Awards and the induction of 50 of British Cycling's finest into the newly created Hall of Fame - one illustrious name for each year of British Cycling's eventful first 50 years.
Gala Dinner on Stage Photo Album (Larry Hickmott)

Luke Webber Photos from Gala Dinner and Awards Ceremony
Hundreds of guests attended the day's celebrations, which were spread across two venues - with the Annual Awards prize-giving taking place at Manchester's Midland Hotel, with National Champions from all categories across the sport being recognised.
The event then moved to the spacious surroundings of the Manchester Central Convention Centre, where guests were treated to a sumptuous gala dinner, the Hall of Fame Roll of Honour, special presentations and an evocative journey through the first 50 years of British Cycling's history, from organisation's origins in 1959 to its world beating performance in the 2008 Beijing Olympics. A display of cycling memorabilia including Chris Boardman's Athlete's Hour Record bike also helped guests rekindle memories from many epic moments on British Cycling's exciting journey.
Above: Pillars of British Cycling all - From left to right - Chris Hoy, Chris Boardman, Doug Dailey and Brian Cookson talk about British Cycling's past and future with Sky's Dermot Murnaghan.
Whilst dinner was served, the Hall of Fame roll of honour was announced, with sporting champions, volunteers and back room staff from every decade inducted in this, the first Hall of Fame presentation. The roll of honour was interspersed with interviews with this year's crop of National Champions and other distinguished guests.

Above: Victoria Pendleton congratulates the assembled Volunteer Award winners.
The evening quickly moved on the presentation of Volunteer Awards, with Vicky Pendleton, Sir Chris Hoy, Sarah Storey and Steve Peat rewarding our sport's most dedicated volunteers in person.
Hosting the evening was Sky News anchorman Dermot Murnaghan, who guided the assembled guests through a 50 Years of British Cycling, with the help of British Cycling President, Brian Cookson. Through video, images and interviews with key figures in the organisation's development, the story of the last 50 years was told, from the federation's infancy in the late 1950s to its phenomenal achievements in Beijing.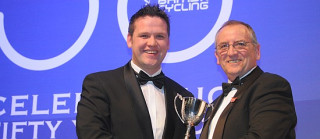 Above: Race organiser Ivor Armstrong (right) receives his Special Recognition Award.
Then came a series of Special Recognition Awards, which celebrated the achievements of outstanding figures in the sport, including road and track sensation Bradley Wiggins, sprint star Mark Cavendish and British Cycling's former Chief Executive Peter King, who took the organisation from the brink of collapse to the heights of success.

Above: British Cycling's inaugural Hall of Famers - marking the end of a special birthday night for British Cycling
The evening's awards were rounded off with Brian Cookson and Victoria Pendleton officially inducting British Cycling's first 50 Hall of Famers with legends such as Barry Hoban rubbing shoulders with modern day heroes like Craig Maclean.
As the evening drew to a close, it was clear to all present what an exciting ride the past 50 years have been and, judging by the current crop of national, world and Olympic champions present on the night, the next 50 years of British Cycling will be as exciting as the past.
British Cycling's Hall of Fame inductees: Pat Adams, Caroline Alexander, Brian Annable, David Baker, Sid Barras, Stuart Benstead, Chris Boardman, Bill Bradley, Beryl Burton , Keith Butler, Arthur Campbell, Brian Cossavella, Doug Dailey, Tony Doyle, Ian Emmerson, Malcolm Elliott, Benny Foster, Tim Gould, Eileen Gray, Dave Hemsley, Barry Hoban, Dale Holmes, Mandy Jones, Peter Keen, Peter King, Stan Kite, Phil Liggett, Craig Maclean, Paul Manning, John & Doreen Mallinson, Yvonne McGregor, Gerry McDaid, Jason McRoy, Chas Messenger, George Millar, Robert Millar, Graeme Obree, Hugh Porter, Jason Queally, John Rawnsley, Brian Robinson, Alan Rushton, Tom Simpson, Eddie Soens, Colin Sturgess, Dot Tilbury, Graham Webb, Les West, Sean Yates and Tony Yorke.
British Cycling Awards Presentation
On the afternoon of February 20, Britain's best cyclists from across all the disciplines, assembled in the rather posh Midland Hotel (Manchester) for a presentation of awards. Over the course of three hours, the awards were divided up into age categories, (Youth & Junior, Senior and then Masters) and one by one, the awards were presented to the winners by some very important VIPs including Olympic Gold medallists, Jamie Staff and Sir Chris Hoy. As each award was presented, photos were taken and these can be seen in the slideshow below. Photos in the slideshow can used to print off for personal use.
Related Link: Awards Photo Set on Flickr
Video - Annual Awards